December Holiday Meeting
DATE:
December 21, 2022

Location:
Stevens Steakhouse
5332 Stevens Place
Commerce, CA 90040
Directions
Time:
5:30 p.m. - Social Hour
6:30 p.m. - Dinner Hour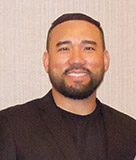 JUSTIN RIVERA
Justin Rivera is a nationally recognized, professional comedian and magician, who has appeared on many worldwide stages and national television shows, including America's Got Talent. He is known for his ability to participate with his audience with an engaging, smart, and witty manner. A seasoned performer, Justin has performed before esteemed public venues such as the Improv, Comedy Store, and Laugh Factory. Everyone will have a laughing good time.

And Justin might be able to magically bring Santa to the party!!
Click here to make your reservation and pay at the door.
Dinner Meeting Prices:
Member with Reservation: $40.00
Emeritus Member with Reservation: $25.00
Student Member with Reservation: $25.00
*$5.00 Discount with Cash/Check Payment at Door


UPCOMING EVENTS
December 21, 2022
Holiday Event
Stevens Steakhouse
Commerce
January 18, 2023
Dinner Meeting
Maggie's Pub
Santa Fe Springs
February 15, 2023
Dinner Meeting
TBD
THANK YOU to our Advertisers
Southern California Institute of Food Technologists Section | P.O. Box 3724, Orange, CA 92857 | 714.282.0919
www.scifts.net | scifts@pacbell.net