February Joint Meeting with RCA
DATE:
February 15, 2023

Location:
Village Green Foods
1732 Kaiser Avenue
Irvine, CA 92614
Directions
Time:
4:30 p.m. - Executive Meeting
5:30 p.m. - Social Hour
6:30 p.m. - Dinner Hour
7:15 p.m. - Cultivated Meat Presentation
Speaker:
Amy Huang
Associate Director of Scientific Ecosystems
Good Food Institute
Topic
Growing Meat to Feed 10 Billion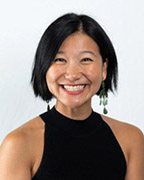 Amy Huang
We welcome Amy Huang, Associate Director of Scientific Ecosystems at the Good Food Institute as our February Speaker! SCIFTS has partnered with Research Chefs Association (RCA) and Village Green Foods to host this meeting and get insights on the state of the cultivated meat field.

The Good Food Institute is a global nonprofit network of organizations advancing alternative proteins (cultivated, plant-based, and fermentation) as an essential solution needed to meet the world's climate, global health, food security, and biodiversity goals.

Amy leads the Good Food Institute's university-level engagement to catalyze alternative protein R&D and cultivate an inclusive workforce to power the future of food. She led the establishment of the Good Food Institute's Alt Protein Project and continues to support students and faculty as they build research and training ecosystems to reimagine our protein supply. Join us for an overview of the scientific, commercial, and regulatory landscape of the cultivated meat field.

Amy has a background in global health, education, effective altruism, and design thinking. She holds a bachelor's degree in economics from Harvard University and is thrilled to be devoting her career to accelerating alternative proteins in the service of human, animal, and planetary health.
Click here to make your reservation and pay at the door.
Dinner Meeting Prices:
Member with Reservation: $40.00
Emeritus Member with Reservation: $25.00
Student Member with Reservation: $25.00
*$5.00 Discount with Cash/Check Payment at Door


UCDavis Education Series
at Natural Products Expo
March 7, 2023
1:00 pm - 4:00 pm
Anaheim Convention Center Marriott
Grand Ballroom F
As a SCIFTS member, the first 50 members who register will be eligible for free attendance to this track ONLY. Since space is limited, please do not register for this track if you are unable to attend. It is important that all registered individuals from SCIFTS attend the session.
Click here for more information.
UPCOMING EVENTS
February 15, 2023
Joint Meeting with RCA
Village Green Foods
Irvine
March 1, 2023
So. CA Food Industry Conference (SCFIC)
Virtual
March 7, 2023
UCDavis Education Series
Natural Products Expo
Anaheim Convention Center Marriott
March 9, 2023
Suppliers Night Expo
Hyatt Regency Orange County
Garden Grove
April 19, 2023
Dinner Meeting
Gaucho Grill
Buena Park
NATURAL PRODUCTS WEST
March 7-11, 2023

THANK YOU to our Advertisers
Southern California Institute of Food Technologists Section | P.O. Box 3724, Orange, CA 92857 | 714.282.0919
www.scifts.net | scifts@pacbell.net