February Joint Meeting with RCA
DATE:
February 20, 2019

Location:
Village Green Foods
1732 Kaiser Avenue
Irvine, CA 92614
Directions
Time:
4:30 p.m. - Executive Meeting
5:30 p.m. - Social Hour
6:30 p.m. - Dinner Hour

Speaker:
Dale Streit
California Custom Fruit and Flavors

Topic:
Factors That Influence Flavor Perceptions
Our perceptions of taste can be influenced by many different factors. Environment, other sensory input before and during tasting, color, sound, texture and psychology all play a part in how we perceive flavor and taste.

Expectations and context can also greatly influence how we perceive sensory input.

This presentation will include audience participation including tasting and odor evaluations.
Click here to make your reservation and pay at the door.
If you are making reservations after the resevation deadline,
please call 714-282-0919 to confirm there is available seating.
Dinner Meeting Prices:
Member with Reservation: $40.00
Emeritus Member with Reservation: $25.00
Student Member with Reservation: $25.00
*$5.00 Discount with Cash/Check Payment at Door
UPCOMING EVENTS
February 20, 2019
Joint Meeting with RCA
Village Green Foods
Irvine
March 6, 2019
SCFIC Conference
Disneyland Hotel Exhibition Hall
Anaheim
March 6, 2019
Supplier`s Night Expo
Disneyland Hotel Exhibition Hall
Anaheim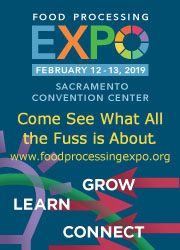 THANK YOU to our Advertisers
Southern California Institute of Food Technologists Section | P.O. Box 3724, Orange, CA 92857 | 714.282.0919
www.scifts.net | scifts@pacbell.net